PHILIPPINE PESO, STOCKS JUMP AS DUTERTE CLAIMS PRESIDENTIAL WIN – The Philippine peso rose the most in six weeks against the dollar as Rodrigo Duterte sought to ease investor concerns after claiming victory in the nation's presidential election.
The currency also strengthened versus all of its 10 Asian peers as preliminary results showed Duterte, the tough-talking mayor of Davao city, won about 39 percent of the vote. He said on Monday it was time to start a process of "healing," and named potential cabinet members. Uncertainty about his economic plans and lack of policy-making experience had sent investors to the sidelines in the weeks before the election.
Benchmark share index advances the most since January

Duterte flags potential cabinet members, calls for 'healing'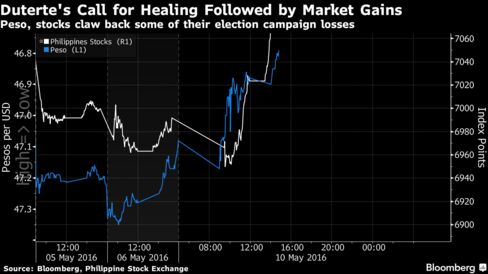 "A Duterte win had been flagged for some time now, and the market has already largely priced it in," said Julian Wee, a senior market strategist at National Australia Bank Ltd. in Singapore. "Going forward, the market will be watching what Duterte does, and the initial signs are mildly positive in that he seems to be making some overtures to the other players in the political establishment. "
The currency rose 0.7 percent to 46.77 per dollar as of 3:25 p.m. in Manila, after initially dropping as much as 0.3 percent from Friday's close, prices from the Bankers Association of the Philippines show. The peso declined 1.8 percent in April in Asia's worst performance. The Philippine Stock Exchange Index jumped 2.6 percent, the most since Jan. 27, ending a two-day drop. Local financial markets were shut on Monday.
Dollar Bonds
The country's dollar-denominated bonds due in 2041 advanced for a fourth day, sending the yield down three basis points to 3.26 percent, according to Bloomberg Bond Trader prices. Local-currency notes were steady, with the yield on the benchmark 10-year debt at 3.94 percent, prices compiled by Bloomberg show. It has risen 29 basis points from this year's low of 3.65 percent on April 20.
Duterte told reporters he may appoint Carlos Dominguez, a former agriculture secretary to the late President Corazon Aquino, as finance or transport chief, and may turn to his running mate Alan Cayetano as foreign secretary. Dominguez owns a hotel and is Duterte's childhood friend.
Once labeled Asia's "sick man," the nation of 101 million people has earned World Bank praise as the continent's "rising tiger" under outgoing leader Benigno Aquino III, posting average annual growth of 6.2 percent over the past six years, the fastest pace since the 1970s.
"The business sector will also be anxious to see what policies Duterte has planned for the economy and investment," NAB's Wee said. "In the meantime, the market is likely to wait and watch, and we would expect that the dollar-peso would be fairly supported around current levels."
Source: Bloomerg